When it comes to WooCommerce, every store is very different from the next, which is great. That's the beauty of WordPress and open source—you can build any kind of store with any kind of design and functionality you want.
The tricky part for online retailers is when you want to customize it, when something breaks and you're not quite sure how to fix it, or when you need help implementing a new feature.
If you're reading this, I assume you're looking for WooCommerce help and support. While there's no one-size-fits-all guide to fixing and customizing WooCommerce, there are lots of free and paid resources available.
When you need WooCommerce help and support, there are generally two types of ways to go about it: DIY or hire an expert. In this post, I'm going to share with you several different places to go for DIY help, as well as a couple of great go-to site for finding a WooCommerce expert.
Where to Get DIY WooCommerce Help
Like to get hands on and fix things yourself? Here are 12 places you can go to ask questions and get WooCommerce help and support.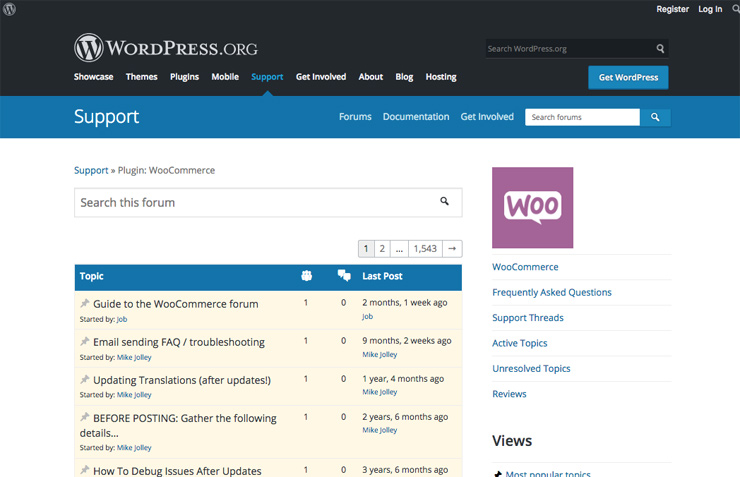 The WooCommerce Support Forum is a good starting point if you're stuck or experiencing an issue after updating and need WooCommerce help. With more than 1,500 forum pages, it's a goldmine of information.
The forum is frequently checked by WooCommerce Happiness Engineers and some WooCommerce developers, but these guys are basically volunteers. So if you need WooCommerce help fast, this is not the place to get it.
Moderators can help with basic customizations that involve a little CSS and PHP, but it's a good idea to search the forum first in case someone has asked a similar question and you can tweak the answer to suit your needs. When you ask a question in this forum, it's more likely that you'll get pointed in the right direction to find more information than get a comprehensive answer.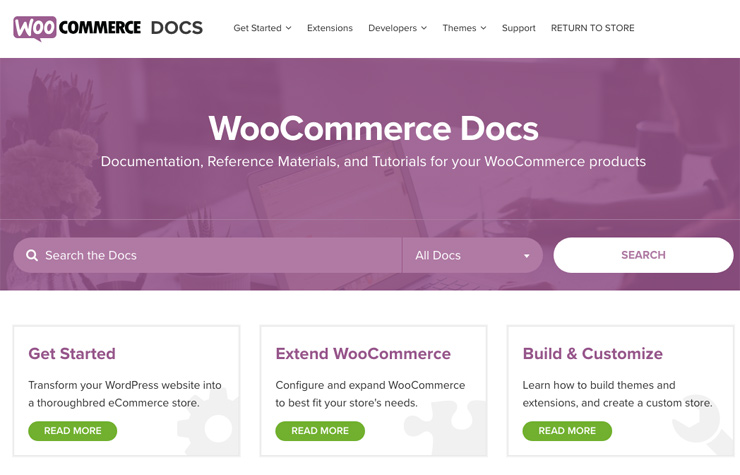 The official site's documentation is rich with in-depth information on the WooCommerce core software. It's split into three categories: getting started, extending WooCommerce, and building and customizing WooCommerce.
The Getting Started section provides comprehensive walkthroughs (complete with screenshots) on how to set up WooCommerce, set up products, manage orders and sales reports, and even offers guidance on how to choose appropriate hosting. Meanwhile, the Extend WooCommerce section focuses on providing help for popular extensions, such as WooCommerce Subscriptions and Product Add-Ons.
In the Build and Customize section, you'll find developer documentation around WooCommerce hooks, and information on various APIs. The page also links through to the WooCommerce development blog for more information on upcoming changes.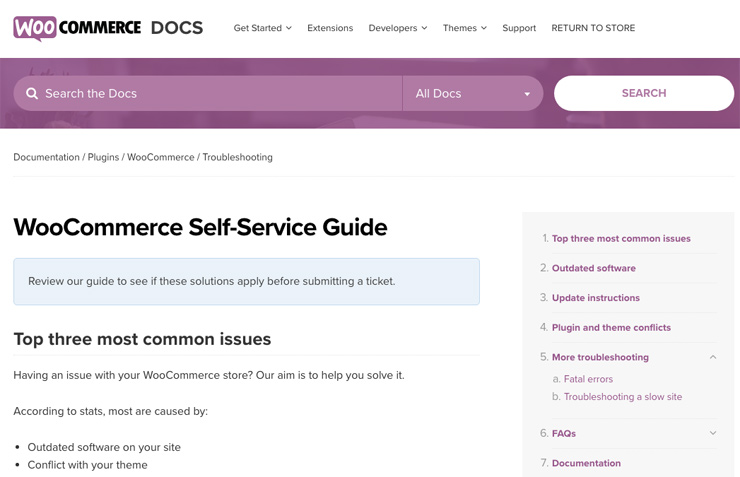 The top three most common issues with WooCommerce sites are caused by outdated software, conflicts with your theme, or conflicts with another plugin. If you suspect the problem you're experiencing falls into one of these categories, then the WooCommerce Self-Service Guide might be for you.
This guide runs through each of these issues, explaining in detail how to troubleshoot and resolve them. There are also links to more self-service resources at the bottom of the page.
Basically, this page, which is part of WooCommerce Docs, is a starting point when you're not quite sure what's going on and want to wrap your head around what might be broken on your site. If you still need help and you're a WooCommerce customer, you can open a new support ticket via this page and a Happiness Engineer will get in touch to help resolve your issue.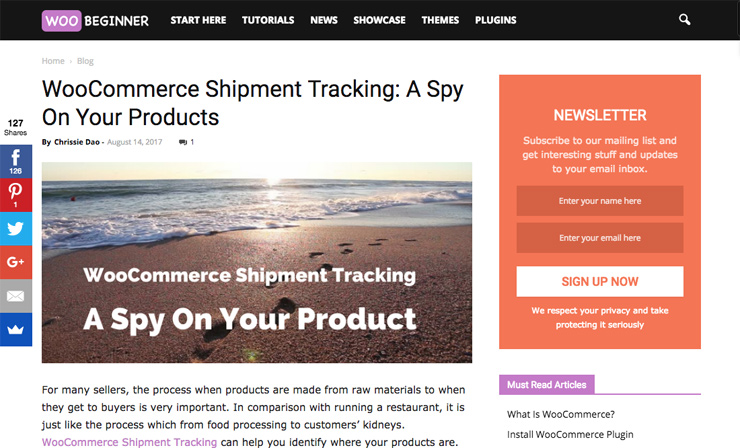 WooBeginner is a great, free resource for WooCommerce help and getting started customizing your online store. It contains hundreds of tips, hacks, and tutorials aimed at beginners, though the content does venture into the intermediate arena.
There's a lot of information on the site. The best way to get started is on the "Start Here" page where you'll find the site's most popular and important posts organized into a bunch of categories, including WooCommerce 101, recommended posts, must-reads for building a store, strategies for business, and security.
There's also handy search functionality so you can quickly look up specific issues or customizations.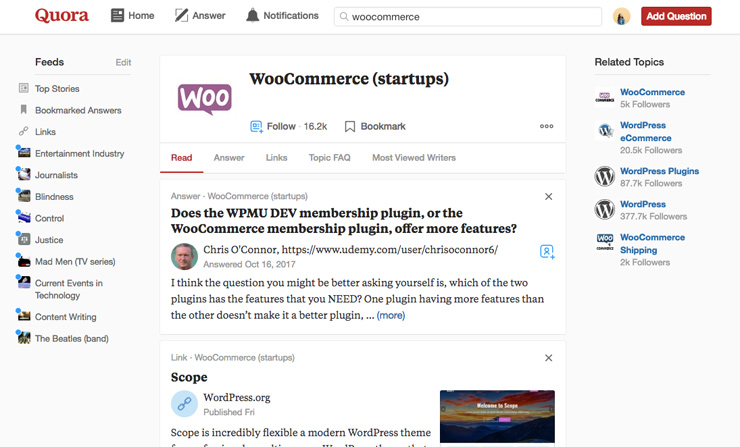 If you've got a general question about WooCommerce, Quora is the place to go. Not matter what you ask on Quora, you're bound to get lots of responses, whether you're looking for advice on a good shipping plugin, want to know how many product WooCommerce can handle, or have some other niggling question on your mind.
When you do ask a question, keep in mind that a lot of people are on there to promote their own products and businesses, so take every answer you get with a grain of salt.
With more than 24,000 members, the WooCommerce Help & Share Facebook group is a great place for beginners through to advanced users to ask questions—free of judgment—and get helpful advice and links to resources.
It's a closed group so you'll need to apply to get accepted, but you should be added to the group fair quickly. If you're an advanced user or developer or see a question you feel you can answer, don't hesitate it help others out!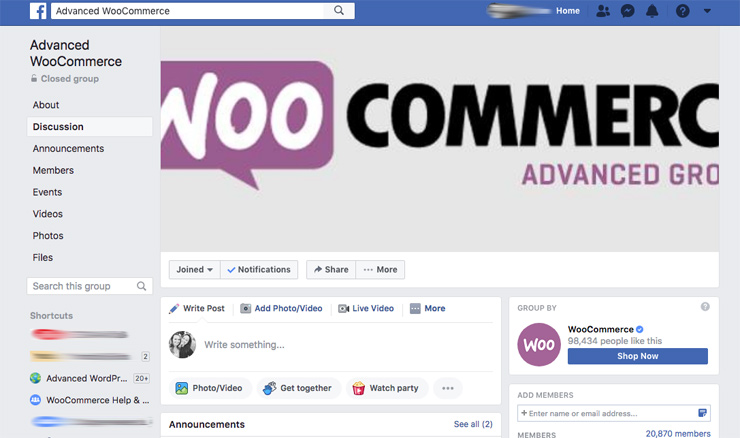 This advanced group isn't quite as big as the WooCommerce Help & Share Facebook group, but with over 20,000 members there's a lot of healthy discussion going on and answers to questions are usually helpful.
Keep in mind that this group is for advanced users and developers, so if you've got a tricky issue that you're having trouble figuring out or an idea for a customization and want to pick someone's brain, this is the place to ask.
8. Other Facebook Groups
I mentioned a couple of WooCommerce-specific Facebook groups above, but there are a couple more groups that aren't specifically aimed at WooCommerce but are still helpful nevertheless.
The Divi Theme Users Group managed by the folks at Elegant Themes is an incredibly useful group for Divi users. It's also a great place to ask questions and get WooCommerce help when you're working with a Divi Themes.
Likewise, the Flatsome Community Group is for people who use the Flatsome, but it also a good place to get help when you're combining this theme with WooCommerce.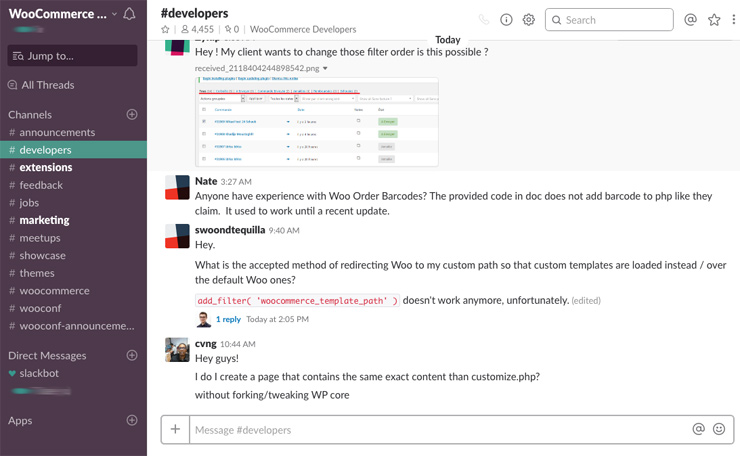 If you want to keep on top of all things WooCommerce, then you want to join the WooCommerce Slack community. This active community is where WooCommerce announcements are shared, developers can ask questions of other developers, there's information on extensions, and themes and more.
You'll need to sign up to get an invite, which you'll then get by email. Once you're in, you can freely leave a message in any channel if you need WooCommerce help and support. If you're new to this Slack community, you might want to lurk a bit before chiming in, just so you can get a sense of what's going on first since it's mostly developer-oriented.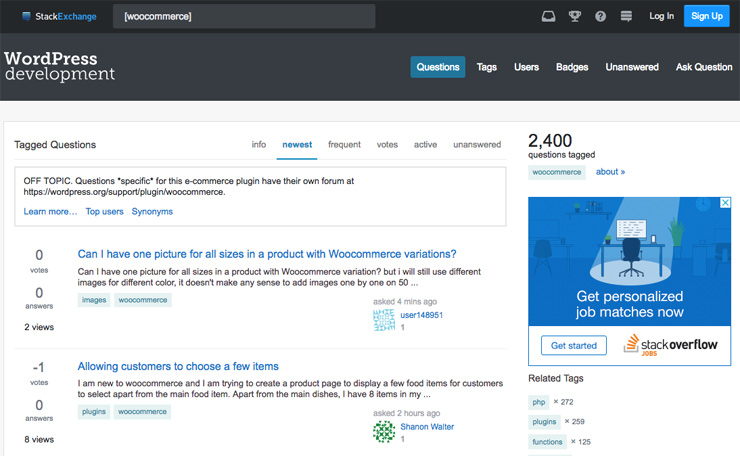 StackExchange is an essential resource for developers. Whether you've run into an error that you just can't figure out or your stuck trying to remember something really basic, StackExchange comes to the rescue. In fact, it's so popular there are some awesome memes about it:
Computer Programming To Be Officially Renamed "Googling Stack Overflow"

Source: http://t.co/xu7acfXvFF pic.twitter.com/iJ9k7aAVhd

— Stack Exchange (@StackExchange) July 20, 2015
Memes aside, the WordPress development sub-section of StackExchange is a great place to ask and get answers about anything WooCommerce-related. It can feel intimidating asking a question for the first time since there's an invisible barrier going on between advanced developers and beginners. So do some lurking and always do an exhaustive search of your question first to make sure you're not asking what's been already answered.
With only 2,800 members, the WooCommerce reddit group isn't as big as the Facebook groups I mentioned above, but it's still active and a great place to questions when you need WooCommerce help. The questions in this group do lean towards the developer kind, but in saying that, its emphasis is on facilitating friendly discussions and providing a place for helpful resources.
It's worth pointing out that unlike some of the other groups mentioned in this posts, this subreddit doesn't tolerate promotional material. So you can be confident any assistance you get is from someone who genuinely wants to help you out.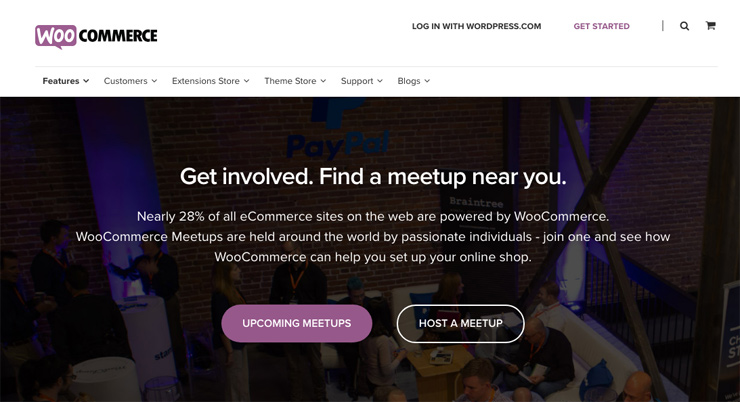 Lastly, here's an offline option you might not have thought of: Meetup groups. There's an active WooCommerce Meetup community of 19k+ people around the world who get together in 72 locations. So if you'd prefer to learn about WooCommerce IRL, seek out help in person and meet other WooCommerce users, find out where there's a WooCommerce Meetup near you.
If you can't find a WooCommerce Meetup near you, you might want to head along to a general WordPress Meetup instead. These groups are great for meeting other WordPress users and developers, and some are sponsored by Automattic and WooCommerce so you're likely to run into someone who can help you out.
Getting Expert Help
If you need professional help rather than the free DIY resources above, here are a few options:
If you've purchased a premium extension or theme from WooCommerce.com, you can get help at WooCommerce.com > My Account > Tickets.
2. Vendor / Developer
Are you experiencing issues with a plugin or theme you bought from, say, ThemeForest.com or some other marketplace or premium developer? If so, you can go to the place you purchased from directly for help.
Premium themes, extensions and plugins usually come with support and updates, so check with the place you bought from to find out what kind of help you're entitled to.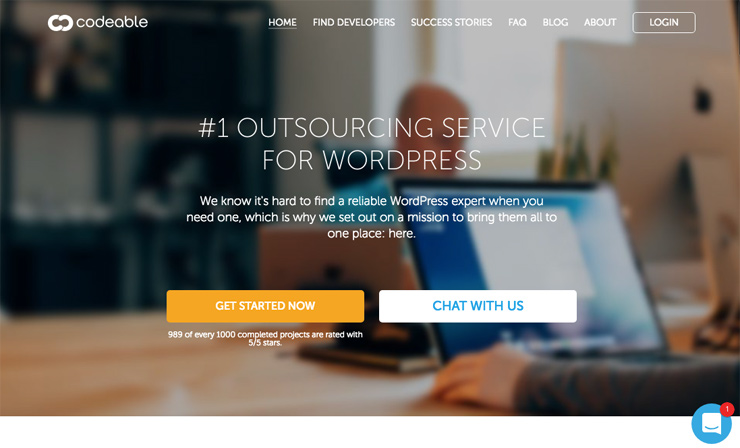 When a customization you need is beyond your skillset or your WooCommerce store has gone belly up and you don't know how to fix it, it's time to call in a professional for WooCommerce help and support.
Fortunately, Codeable is a ready community of developers on hand to help you out with just about anything you need. These guys do everything from WordPress theme customizations to custom plugin development.
What's impressive about Codeable is that each of their 300+ WordPress experts has gone through a rigorous testing process where only 2% succeed. So when you work with them you know you're working with the best.
Ready to get professional WooCommerce help? Get in touch with Codeable.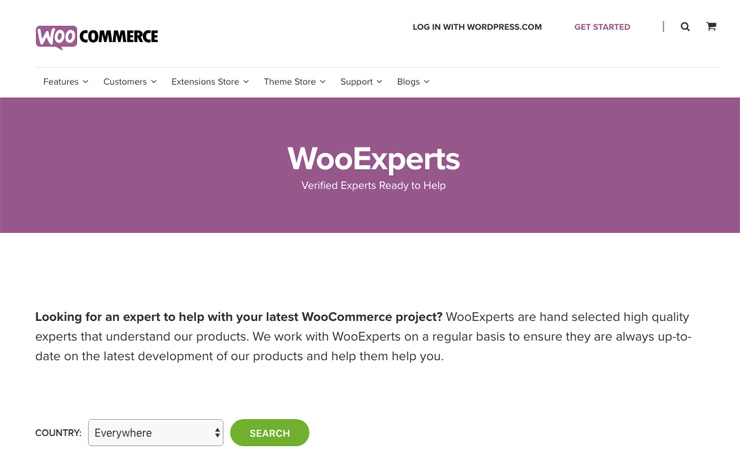 The official WooCommerce site promotes 30+ different design and development agencies from around the world that can help with WooCommerce customizations and fixes. The WooCommerce core team regularly works with these businesses to ensure they are always up-to-date on the latest development of WooCommerce products.
So if you've got the budget, these agencies are a good choice when you need WooCommerce expertise and support.
Conclusion
When you're stuck trying to customize your WooCommerce site or something has suddenly stopped working and you need help ASAP, knowing where to find help is half the battle. With the resources above, you'll be able to quickly ask other WooCommerce users for advice when you run into a problem with your store. And if you need it, you can access WooCommerce experts, too.
If you run into any issues using Robot Ninja with WooCommerce, we can help! Get in touch via live chat or email and we'll help get you back on track.
Don't forget to bookmark this post for future reference. It's a good one to have on hand to save yourself time and anxiety.
If you've got a question about any of the resources or have a suggestion for one we missed, leave a comment below!