Thanks for your interest in Robot Ninja. We have a few guidelines for using our brand resources—please take a moment to familiarize yourself with them.
You can download individual assets in each section. If you want everything, use the button below to download a .zip file:
Download all assets
Logo
The Robot Ninja logo is designed to work as a simple monochrome logomark on top of a light plain colour (no darker than the Tertiary Colour).
There are some variations to provide some flexibility depending on the context it's used in. For example, the cropped version is suitable for narrow contexts like headers.
---
Alignment
The Ninjabot head is not centred equally inside the boundary of its canvas. Doing this would make it appear mis-aligned. Instead, the centre line of the head is placed as close to the centre of the canvas as possible, without reducing it's size.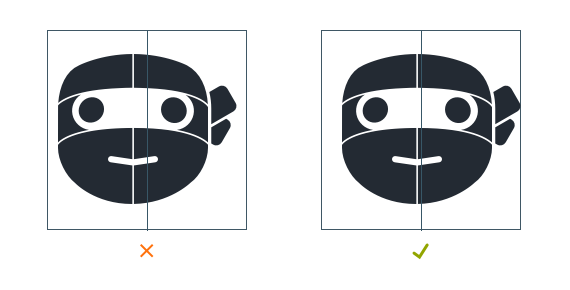 Mascot
Ninjabot is our mascot. We use Ninjabot in contexts that need a more illustrative style than the monochrome logo. There are two mascot illustrations in different poses supplied in SVG and PNG formats.
Legal
This is a friendly reminder that these graphics are proprietary and protected under intellectual property laws.
Please don't:
Display these graphics in a way that implies a relationship, affiliation, or endorsement by Robot Ninja or Prospress Inc. of your product, service, or business.
Use these graphics as part of your own product, business, or service's name.
Alter these graphics in any way, or combine them with any other graphics, without written consent from Prospress Inc.
Credit where credit is due
Credit for the Robot Ninja logo, mascot and color palette goes to Jon from hicksdesign.co.uk. If you are in need of a talented, professional designer then look no further.